The Story Behind Our Logo
Jan 10th 2019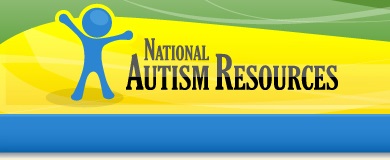 When we started National Autism Resources in 2008, we wanted to create a logo that reflected what we wanted to empower and become. Several consultants suggested various ideas, including many puzzle piece designs. We decided not to go with a puzzle piece design after talking to several adults on the autism spectrum. Some felt the puzzle implied that they were missing a piece or fractured as people. Their feedback was important to us, so all of the puzzle piece designs were set aside.
Our founder and president, Bonnie Arnwine, wanted to create something that represented a celebration of an individual. Her goals for people on the spectrum are of the same core values that represent the American way of life. Everyone has the right to "Life, Liberty, and the Pursuit of Happiness". That is when we came up with NARI, the blue person in our logo.
The original logo paired NARI with a house in the background representing NARI with the independence to access the community. NARI's arms are lifted up representing the individual having fun and celebrating life as they pursue their happiness. This reflects our goal to create tools that empower individuals to live happy and fulfilling lives.
At first, our corporate colors were blue, green, and yellow. We selected these colors based on color psychology. NARI is blue because it is perceived as trustworthy color and conveys trust. As one of our companies greatest values, we must be a place you can trust for your resources. (Blue is also our presidents favorite color).
We chose green because it conveys peace or can be peaceful. When we first started, many images of autism were in black and white with people staring off in the distance. The future was uncertain, how to help was uncertain. It is scary when a child is first diagnosed and those images were not reassuring.
Fear can cause many people to purchase things impulsively. In fact, there is a whole marketing strategy built around the fear of loss. When individuals open a catalog or come to our website we want them to feel calm, comfortable, and empowered to make the best decision for their home, classroom, or clinic. We want your experience with us to be peaceful.
Lastly, we chose a yellow background behind NARI because yellow is supposed to evoke happiness and optimism. (Plus yellow looks good with blue and green.) We want a happy future for everyone. We were optimistic in the beginning and we still are today. Research has come so far in the last ten years. We still have questions that need answers and we are hopeful answers will come.
Recently, we updated our logo to match the current look of the website. The website was updated to make it more user-friendly, especially for our mobile users. NARI is still celebrating life but the house is gone. The yellow background didn't translate well on mobile phones - but we are still optimistic!! We still have accented green throughout the website and catalog because we want you to relax and take your time. We are here to support you on every step of your journey.