Simple Tips to Help Special Needs Kids with Handwriting Challenges
Oct 11th 2016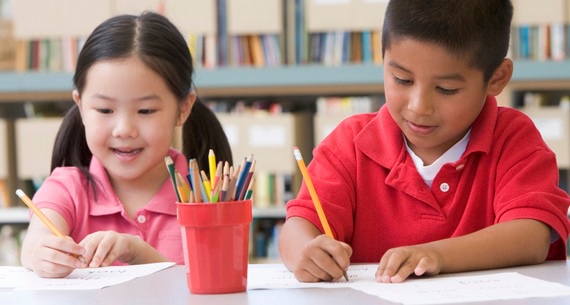 Sitting down to write is a fairly simple task. Pick up a pencil or pen and write, right? For the child with special needs writing may not be so simple. Stop and think about the components of good writing skills.
Good sitting posture (upper body stability)
Shoulder stability (for control of the arm/hand)
Appropriate grasp pattern on the writing tool Sounds easy, but when a child's body is not providing good feedback about body position or movement this can be a daunting task. Throw into the mix the need for:
Good ocular motor control to visually track across the paper
Spatial relationships needed for line adherence, letter size and word spacing.
Good sitting posture (upper body stability)
Good bilateral integration for development of lead assist hand patterns
....and the task becomes even more difficult, but not impossible.
Here are a few tips that can make the writing experience a little friendlier:
Table and chair height should be appropriate for the child. Feet should be stabilized on the floor and elbows resting comfortably on the table.
Paper should be slanted according to hand dominance. For the right hand, slant to the right. For the left hand, slant to the left. This is important because it allows writing to flow smoothly across the paper and keeps the hand/wrist in the proper position for good distal control of the fingers and thumb.
The addition of a

slant board

can often be beneficial. It places the paper in a better visual line for increased attention to task.
Use of a training tool for pencil grasp can also be helpful. The

HandiWriter

is a soft cotton-band writing aid that facilitates the appropriate tripod grasp, while giving feedback for separation of the two sides of the hand. This separation allows for greater distal control and comfort while writing. A variety of

pencil grippers

are available that work well with the

HandiWriter

.
Having worked in the special education department of a large school district for over 10 years I can attest to the effectiveness of these techniques. I worked with a number of children with autism and found that, given the right tools and instruction, they were able to write with increased confidence and control. I also found it important to work closely with the teacher for carryover in the classroom.

Each child is unique. As parents, teachers and therapists, our goal is to provide opportunities that will help them realize their full potential. If proper handwriting is the objective, then we have the techniques, training methods and tools to assist them in achieving their goal.

Mary Ann Heinz has worked as a COTA/L in pediatrics in both preschool and elementary school settings for twenty years. She developed the Handiwriter and co-founded HandiThings, LLC. Thank you US Department of Agriculture for sharing this picture!